Today, dogs perform dozens of specialized services for people, such as the work of Autism Assistance Dogs, Veteran Service Dogs, Brace/Mobility Support Dogs, Avalanche Rescue Dogs, Psychiatric Service Dog, and many more. But back in 1919, the idea that dogs could be trained to perform such highly skillful tasks, beyond their known abilities as retrievers during a hunt, was relatively new.
The Airedale Terrier was one of the first breeds identified as capable of learning such tasks, and they proved themselves invaluable to the British as well as German Armed Forces in World War I, performing vital services like finding wounded soldiers, carrying messages across the front lines, and acting as guard dogs. Perhaps it was their reputation in this last skill that led the Holly Sugar Company to use Airedales as watch dogs for their sugar factory in Swink, Colorado in today's article.
The Airedale has been used more especially for guarding purposes. The peculiarly faithful and sagacious nature of the breed, combined with its adaptability to every circumstance where it may be required, whether it be the farmer's yard, the factory, or a lady's drawing-room, makes it very useful indeed.

Edwin Hautenville Richardson, from Watch Dogs: Their Training & Management
Airedales originated in the Aire Valley of northern England near the Scottish border during the mid-1800s. The Aire Valley was primarily a manufacturing town, and the mill and factory workers who lived there wanted to breed a tough, biddable dog to hunt rats that infested the area, as well as a dog that could retrieve ducks during a hunt. According to the AKC, the Airedale originated as a cross between several breeds, including the Otterhound for its sense of smell, the now-extinct Black and Tan Terriers for their desire to learn, and the Irish and Bedlington Terriers for their alertness.
During WWI, under the training guidance of British Lieutenant Colonel, Edwin Hautenville Richardson, the Airedale was introduced as one of the first War Dogs for the Allied side. Ironically, Richardson was made aware of the potential of war dogs by the Germans, who were training dogs to find wounded soldiers as early as 1914.
Despite the British military's reluctance to catch on to the value of war dogs, Lt. Col. Richardson and his wife, Blanche, set up the British War Dogs Training School at Shoeburyness, Essex, where they trained hundreds of dogs.
"[Airedales] are very determined. They're very single-minded and there's no stopping them.


Lt. Col. Edwin Hautenville Richardson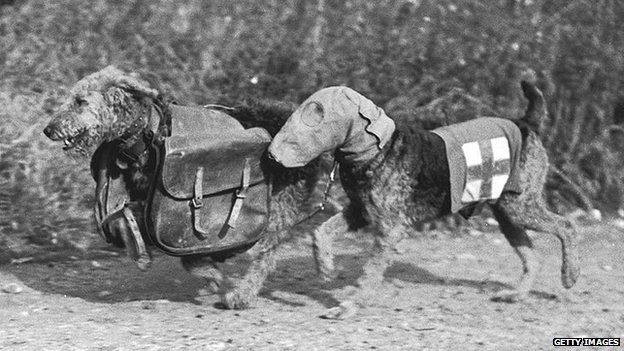 Thousands of Airedales, as well as other breeds, were trained as messengers, sentries, and guards for the British Armed Forces. Messages were put in tins around the necks of dogs and they were identified by a scarlet collar or tally. Wendy Turner, secretary of the Airedale Terrier Club of Scotland said, "Red Cross used them as first aid carriers, they had a little package on their neck with medication in it and everything, and they were used for going out and finding wounded soldiers on the battlefield."
Airedales were even taught to wear gas masks so that they could serve in the trenches on the front lines.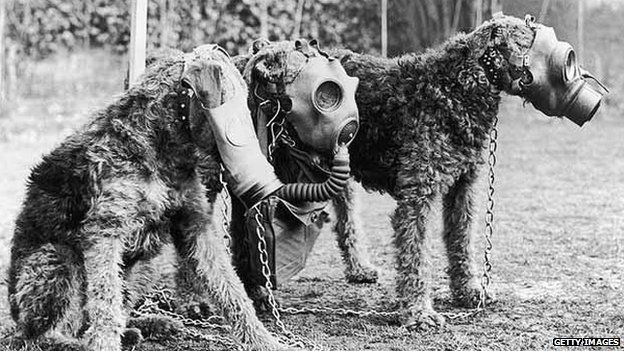 Jack, an Airedale British War Dog, was one of the most heroic service dogs in WWI. In 1918, Jack's battalion, an advanced unit of the Sherwood Foresters, was completely trapped by German forces who had blown huge mortar shell holes behind the Allies. In front of them was a line of impenetrable barbed wire.
The Foresters were doomed, and Jack was their only hope of summoning reinforcements. The Airedale was sent to the deliver a message past the Germans to the next Allied line behind them. Jack suffered grave wounds during his mission. His jaw was shattered by shrapnel and a shell ripped down his back, but he kept going for another mile and a half. He saved his battalion, but Jack died soon after delivering his message.
Presidents who have owned Airedales include Woodrow Wilson, Warren G. Harding, and Calvin Coolidge. Author John Steinbeck also had an Airedale. The 1919 Best in Show was won by an Airedale.