Major General Leonard Wood was one of the most decorated Army veterans in U. S. History. And he was damned close to becoming President of the United States as well, if only he were in that smoke-filled "room where it happens" (shout out to my Hamilton heads) during the Republican National Convention of 1920.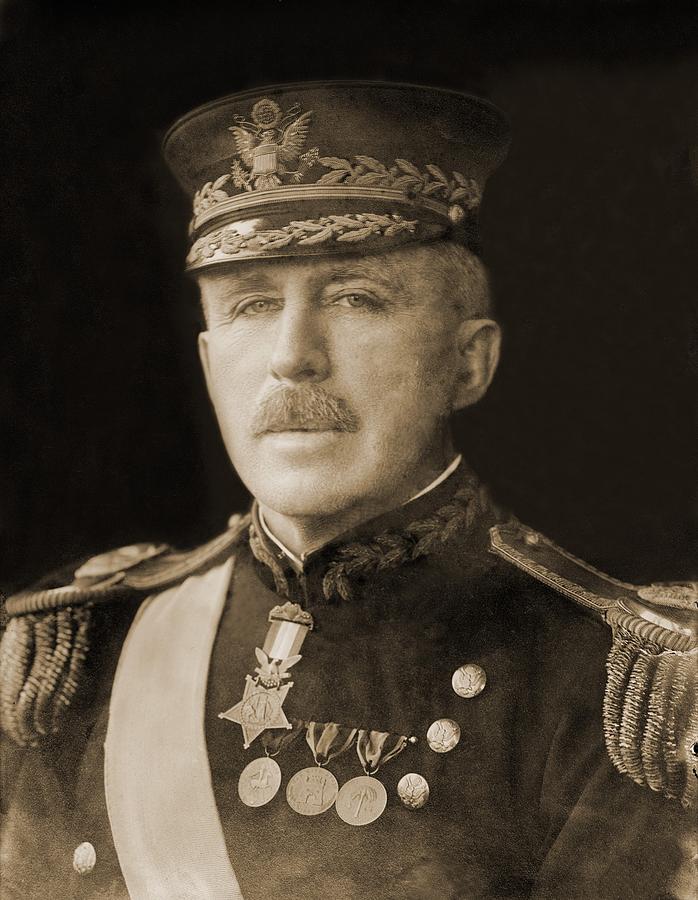 However, the name Leonard Wood is not well known today. I'd certainly never heard it before I came across today's article. So let's take a brief tour through the life of this very model of a modern major general (sorry, couldn't help myself).
Wood was born in New Hampshire in 1860 and studied medicine at Harvard Medical School, where he became a surgeon in 1884. He officially joined the Army in 1886 as an assistant-surgeon serving under Captain Lawton in the Indian Wars, notably during the chase and eventual capture of the Apache chief, Geronimo. Wood was awarded the prestigious Medal of Honor for his service during this time, and he documented the Geronimo pursuit in his journal, published as Chasing Geronimo.
When the Spanish-American war broke out in 1898, Wood and his friend, Theodore Roosevelt, left their positions (as physician to the President and assistant secretary of the U.S. Navy, respectively) to recruit the 1st U.S. Volunteer Cavalry, known as the Rough Riders. Col. Wood was the commanding officer and Lt. Col. Roosevelt was his second in command during their famous victories at Kettle Hill and San Juan Hill in Cuba. Wood was promoted to Brigadier General for his service, and he stayed on the island from 1899-1902 as the Military Governor of Cuba, working with Walter Reed to establish infrastructure there in the areas of education, police, sanitation, and justice.
Continuing his meteoric rise, Wood was made Major General in 1903 when he was transferred to the Philippines to serve as Governor of the Moro Province until 1906. He then commanded the Department of the East until his appointment as Army Chief of Staff under President William Howard Taft from 1910-1914, the only physician to ever hold that position.
Politically, Maj. Gen. Wood was a Republican most closely aligned with Theodore Roosevelt's brand of imperialism and progressive-ism. He was a proponent of the Preparedness Movement, which aimed to establish military training centers in in places like Plattsburg, NY for training officers and infantry in anticipation of World War I. His political positions set him in opposition to President Woodrow Wilson, who passed him over for Commander of the AEF when the U. S. joined the Great War.
Early in 1919, Leonard Wood's name was bandied about the Republican party as a candidate for the 1920 presidential election. Supporting groups like the Wood Republican Club in Colorado from today's article saw him as the political heir to the recently deceased Theodore Roosevelt, who actually thought about running in 1920 before his untimely demise.
Indeed, Wood was considered the front runner for the Republican ticket all the way up to the Republican National Convention in 1920. He won the New Hampshire primary in his home state, as well as seven other state primaries.
During the Republican National Convention, Wood was leading every ballot over Frank Lowden, Hiram Johnson, and Warren G. Garding, but he didn't have quite enough delegates to be declared the victor. Wood was thought by some in the party to have spent too much money on his Presidential campaign (ha! think about that for a second). Finally, on the 10th ballot, after Republican bosses had met in so-called "smoke filled rooms," Harding, an Ohio Senator and newspaper man, was chosen as a compromise candidate. He would go on to win the Presidential election with his Vice President, Calvin Coolidge, over Democratic nominee, James M. Cox.
In Wood's final years, he commanded the Central Division and then served in the Philippines for one last mission, retiring from active service in 1921. He was not quite done yet, however. He became the governor general of the Philippines from 1921-1927. Maj. Gen. Leonard Wood died during surgery for a recurring brain tumor on August 7, 1927 in Boston, Massachusetts. Fort Leonard Wood, an Army combat engineer school, is named after him.